On March 10, 1913, former slave Harriet Tubman, who devoted much of her adult life to helping others escape the bonds of involuntary servitude, died at her home in Auburn, New York. Seventy-seven years after Tubman's death, President George H.W. Bush signed legislation officially designating March 10 as Harriet Tubman Day. Try your luck with our trivia questions to see how much you know about this 19th century slave-turned-abolitionist and her work as a conductor on the Underground Railroad.
How Did Tubman Escape from Slavery?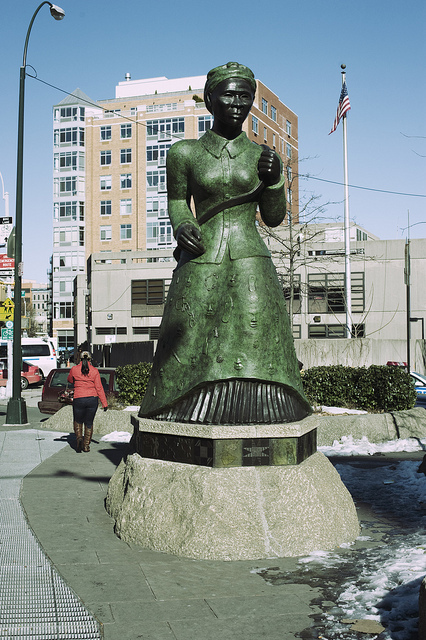 Located in New York City's Harlem, this bronze statue of Harriet Tubman, sculpted by Alison Saar, honors the memory of the former slave who led others to freedom. In the early 1820s (exact date of birth is unknown), Tubman was born Araminta Ross to Harriet Greene and Ben Ross, both of whom were slaves on a plantation on the Eastern Shore of Maryland. While still a slave, Minty, as she was then known, married a free black man known as John Tubman. Shortly after the marriage, she dropped her given name, adopting instead her mother's first name of Harriet.

In September 1849, Tubman and her brothers, Ben and Henry, were hired out by their owner to work on the plantation of a neighbor. On September 17, 1849, the three siblings escaped, but under pressure from her brothers returned to the plantation only a few weeks after leaving. Not long thereafter, Tubman decided to escape on her own and this time made her way to Pennsylvania via the Underground Railroad -- a network of abolitionists who guided runaway slaves to freedom in the North.
What Caused Her to Help Others Escape Slavery?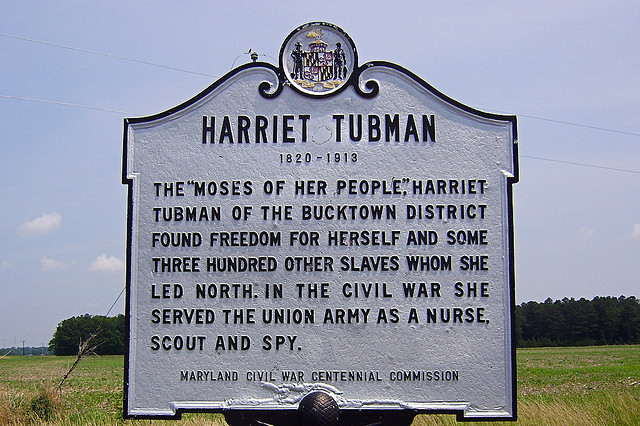 This Maryland road sign honors Tubman as the ¨Moses of her people.¨ After making her way to Philadelphia, Tubman worked at various jobs and saved her money. However, she soon found that it was hard to truly enjoy her newfound freedom knowing that most of her family members still were enslaved. Focusing first on her own family, Tubman made numerous trips south of the Mason-Dixon Line to help guide others to freedom. Among the first family members she brought north were her sister, brother-in-law, and their children. On her next trip, she helped her brother Moses and two other men on their way to freedom.

Over time, Tubman made a total of 19 trips south, bringing scores of slaves, including her elderly parents, to freedom in the North. To those she helped, she became known as ¨Moses,¨ because, like the biblical figure, she guided her people to the promised land.
How was Tubman Regarded by Her Fellow Abolitionists? Tubman's work on the Underground Railroad didn't go unnoticed by other leaders of the abolitionist movement. Of Tubman, PBS reports that Frederick Douglass once said, ¨Excepting John Brown -- of sacred memory -- I know of no one who has willingly encountered more perils and hardships to serve our enslaved people than [Harriet Tubman]." Helped by Tubman in the planning of his raid on Harpers Ferry, John Brown said she was "one of the bravest persons on this continent."
How Did Tubman Help the Union during the Civil War? Given her dedication to bringing an end to slavery, it comes as little surprise that Tubman did all she could to support the Union cause during the Civil War. In addition to serving the Union army as a nurse and cook, she helped to gather intelligence on the movement of Confederate troops. According to America's Story from America's Library, Tubman ¨went with Colonel James Montgomery and about 150 black soldiers on a gunboat raid in South Carolina. Because she had inside information from her scouts, the Union gunboats were able to surprise the Confederate rebels.¨

Photo credits: Jerome Mercier, lreed76